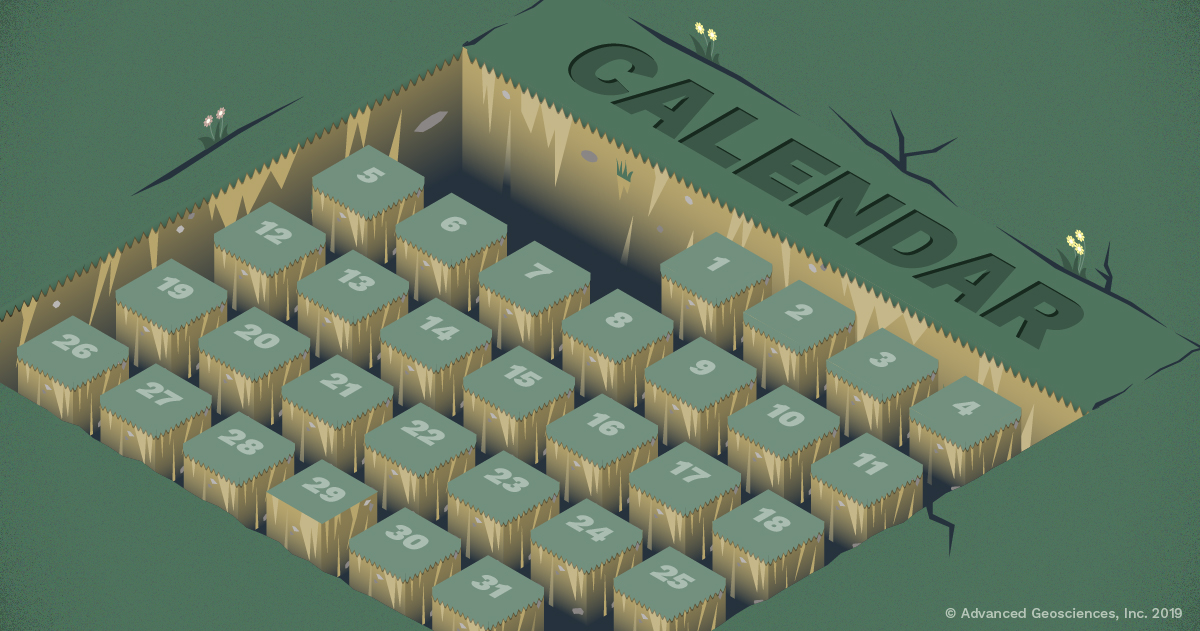 If you're anything like us, cave/karst conferences tend to sneak up on you. You spend a week in May attending Hypogea in Bulgaria, and before you know it, it's October and you're in the USA attending the National Cave and Karst Management Symposium.
So to help you keep track, we've put together this definitive list of cave and karst meetings happening in 2019. Enjoy!
Add to your Google Calendar | Add to your Apple Calendar | Download this list as a PDF
May
Hypogea 2019: The International Congress of Speleology in Artificial Cavities
When: 20-25 May 2019
Where: Dobrich, Bulgaria
More Info:  http://www.hypogea2019.org/
2019 National Speleological Society Cave Diving Section International Cave Diving Conference
When: 24-26 May 2019
Where: Lake City, Florida, USA
More Info: https://nsscds.org/evetns/2019-nss-cds-international-cave-diving-conference/
June
Karst Field Studies 2019
When: Five courses offered between 2 June – 3 August 2019
Where: Florida and Kentucky, USA
More Info: www.karstfieldstudies.com
48th French National Speleo Congress
When: 7-10 June 2019
Where: La Ciotat, Marseille, France
More Info: https://www.facebook.com/FFSpeleologie/
International Association of Hydrogeologists Karst Commission Geo Trip: Carpathian Karst
When: 15-18 June 2019
Where: Romania and Serbia
More Info: www.karst.edu.rs.
27th International Karstological School "Classical karst": Karst Hydrogeology - Research Trends and Applications
When: 17-21 June 2019
Where: Postojna, Slovenia
More Info: http://iks.zrc-sazu.si/en/  
National Speleological Society Convention
When: 17-21 June 2019
Where: Cookeville, Tennessee, USA
More Info: http://nss2019.subworks.com/
35th Brazilian Speleological Congress and 50th Anniversary of the Brazilian Speleological Society
When: 19-22 June 2019
Where: Bonito, Mato Grosso do Sul, Brazil
More Info: http://www.cavernas.org.br/35cbe/
Man and Karst Conference
When: 24-26 June 2019
Where: Ragusa, Sicily, Italy
More Info: http://www.cirs-ragusa.org
British Cave Research Association Field Meeting
When: 29-30 June 2019
Where: Cumbria, UK
More Info: http://bcra.org.uk/forum and http://bcra.org.uk/facebook
July
Symposium on Caves, Karst, and Subterranean Environments: Cuba
When: 1-5  July 2019
Where: Havana, Cuba
More Info: http://www.cubambiente.com/
Symposium: Challenges for Subterranean Landscape Conservation in the World's Karst Regions, 10th World Congress of the International Association of Landscape Ecologists
When: 1-5 July 2019
Where: Milan, Italy
More Info: http://www.iale2019.unimib.it
August
National Speleological Congress of Switzerland
When: 9-12 August 2019
Where: Interlaken, Switzerland
More Info: https://sinterlaken.ch/en/
4th Summer School on Speleothem Science
When: 11-17 August 2019
Where: Cluj-Napoca, Romania
More Info: https://www.speleothemschool.com/
German Annual Speleo Meeting
When: 15-18 August 2019
Where: Nesselwang, Bavaria, Germany
More Info: www.vdhk.de   
September
TransKarst 2019: The 3rd Asian Trans-Disciplinary Conference
When: 7-10 September 2019
Where: Bohol, Philippines
More Info: http://www.transkarst2019.com/
ArmConference 2019: Caves as Natural and Cultural Monuments
When: 11-13 September 2019
Where: Yerevan, Armenia
More Info: http://armconference2019.com/
25th International Cave Bear Symposium
When: 18-22 September 2019
Where: Paklenica National Park, Croatia
More Info: nadja.kavcik@univie.ac.at
Geological Society of America Convention
When: 22-25 September 2019
Where: Phoenix, Arizona, USA
More Info: http://www.geosociety.org/GSA/Events/Annual_Meeting/GSA/Events/gsa2019.aspx
13th EuroSpeleo Forum
When: 23-26 September 2019
Where: Sofia, Bulgaria
More Info: https://esf2019.speleo-bg.org
46th IAH Congress "Groundwater Management and Governance Coping with Water Scarcity" (Topic 7: Karst Hydrogeology)
When: 23-27 September 2019
Where: Malaga, Spain
More Info: http://www.iah2019.org/topics-and-sessions/
October
6th Texas Hydro-Geo Workshop
When: 4-6 October 2019
Where: Boerne, Texas, USA
More Info: https://hydrogeoworkshop.org/
National Cave and Karst Management Symposium
When: 7-11 October 2019
Where: Bristol, Virginia, USA
More Info: http://nckms.org/2019-symposium
November
13th European Cave Rescue Meeting
When: 15-17 November 2019
Where: Istanbul, Turkey
More info: https://caverescue.eu/13th-european-cave-rescue-meeting/
That's a lot of events! Click the links below to take these dates with you:
Add to your Google Calendar | Add to your Apple Calendar | Download this list as a PDF